The cold weather in Northern Colorado and Windsor has finally kicked in, which means there's snow on the mountains, and our cars are frosted over in the morning. It also means our skin is struggling to remain soft, retain the much needed moisture, and we have to work hard to make sure tans we get don't have the faint outline of sunglasses. Anyone who loves a golden glow to their skin will know the challenge of maintaining the desired color throughout these winter months. So to make sure you have the skin you love and the color you want, here are some expert tips from the tanning salon professionals at Nova Tans.
Moisturize
We've mentioned using a high-quality moisturizer before, but we can't stress enough how important it is to keep your skin moisturized. Cold, dry air outside and central heat inside can zap much of the moisture from your skin, which means when you visit a tanning salon, the condition of your skin is made even worse. If you're using face wipes to clean away makeup at night, opt for a wipe that has micellar water. A majority of facial wipes use alcohol or harsh chemicals that dry out the skin, but in this climate, your skin needs hydrating products.
Overnight Skincare
When you're getting your shuteye at night, this is a great time to give your skin the love it needs. These hours will allow products to soak in and really have a beneficial impact. With a face oil, moisture will be locked in to offer protection and nutrients for your skin. Use an almond or coconut oil that won't leave your skin feeling greasy, but will definitely replenish your skin after being outside in the Windsor air.
Exfoliate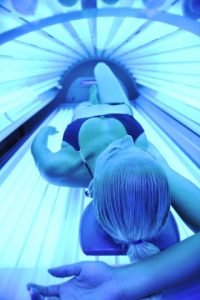 Our tanning salon experts love a good exfoliant for our skin, and not just our faces either. Our whole body will benefit from a good exfoliating scrub at least once a week. Use a scrub to gently brush away dead skin and you'll be left with soft and healthy skin. Regularly exfoliating your skin can not only help remove dead skin, but will improve the tone of the skin as well.
Stay Active
It's hard to get outside for a workout when the wind has a cold bite to it, but being active can help improve the beauty of our skin. A 30-minute walk a couple times a week can increase circulation and help keep our skin healthy. After your walk, be sure to stay hydrated by drinking plenty of water. This will also help to maintain your glowing skin.
Keep Up With Regular Visits to Your Tanning Salon
The above tips will definitely improve the appearance and feel of your skin, which will help to lengthen the color you have already achieved. Because our skin is constantly renewing itself, when our skin is soft and moisturized, the top layer will remain healthy for longer. But even the best moisturizer can't stop our skin from shedding. To maintain the color you desire, visit Nova Tans around two times a month.
Maintaining a healthy glow and a deep color has a lot to do with caring for our skin and making sure there is plenty of moisture. When the winter Northern Colorado air is so dry, this means keeping up with a regular skin care routine and scheduling visits to a tanning salon. At Nova Tans, our priority is protecting and nourishing our client's skin, as well as providing the best equipment to provide a beautiful tan. Call us today to schedule an appointment.